Verified Pathways is Disco blog series that explores the power of credentials in action. At Disco, we are obsessed with streamlining cumbersome and overwhelming coordination processes and creating a more granular and fun internet. In this blog series, we aim to share our insights by delving into various use cases and applications of credentials and how to use Disco tools to enable these pathways for your squad.
Hackathons & Events
Most hackathons today typically begin with a lengthy application form at home. And despite investing countless hours, or sometimes days, in their meticulously crafted projects, participants and judges frequently find themselves departing without any tangible evidence or proof of their significant contributions and active involvement.
This same situation extends to parties, events, gatherings, and various shared experiences.
Credentials offer a simple way to recognize participation and contributions.
Proof of Hack
Imagine the convenience of being able to prove your past experiences and traits when filling out forms, applications, or engaging in interactions. This not only streamlines your experience but also adds credibility to your role, whether you're a hackathon judge, participant, attendee, or partier.
With Disco, you can give participants credentials to recognize their roles & contribution, like–Hacker or Participant, Guest Speaker, or Organizer.
Build future experiences that rely on these credentials.
So, for example, imagine you're hosting a hackathon using credentials as your backbone. Here's how it works:
Automatically enroll people who applied to attend your event. Participants connect their wallet, and apply to hack. The web app verifies that they have a hackathon participant credential. All you need is a list of accepted addresses, and you can drag & drop credentials to a CSV.

Customize and issue credentials to your panel judges. Issue credentials to your panel of judges, such as the "Proof of Participation Schema," by designing and issuing the credentials to their addresses.

Recognize participant achievements. Choose from a range of credentials to recognize winners. Recipients can then take these credentials and achievements to show off elsewhere–like Lens and other platforms.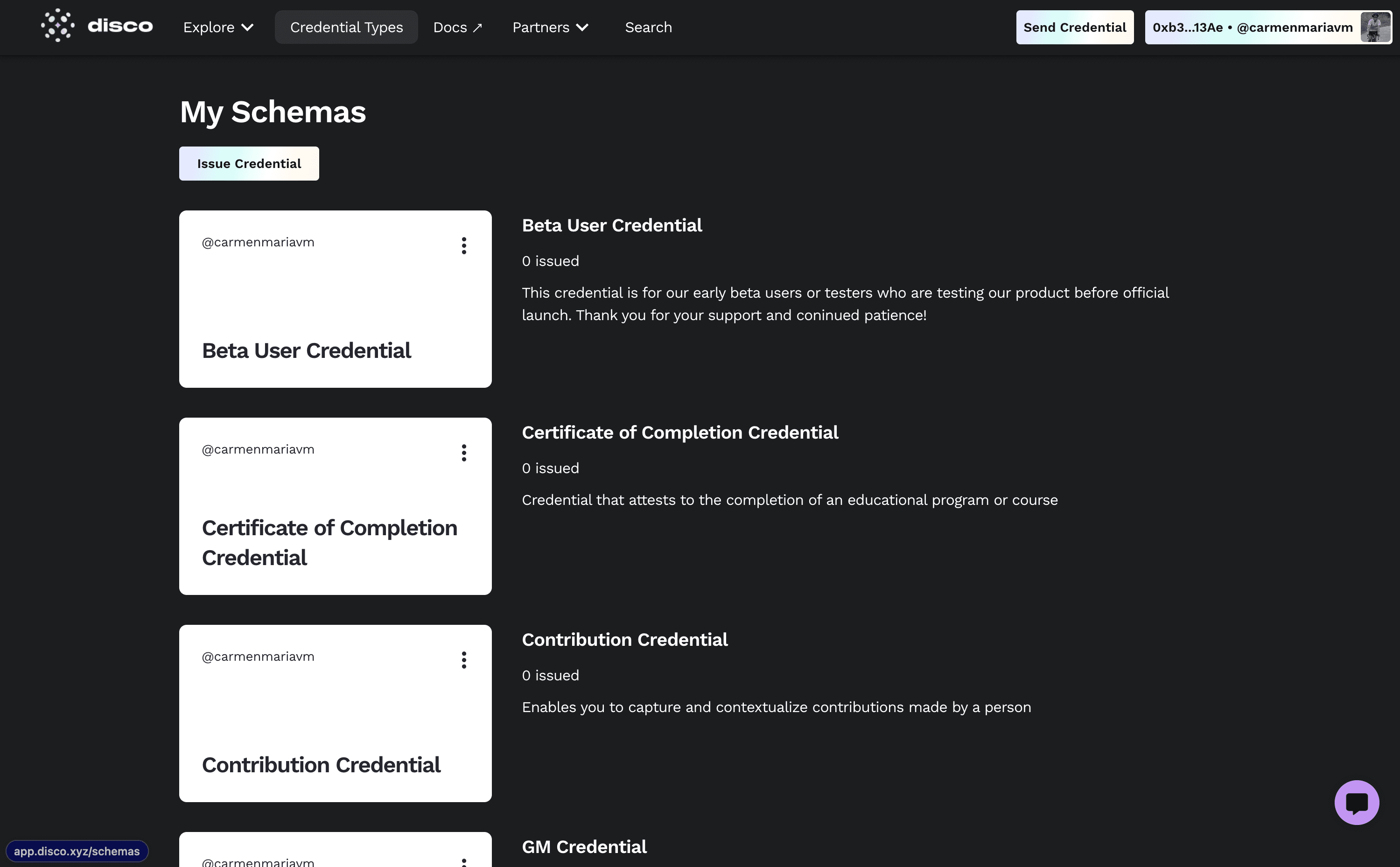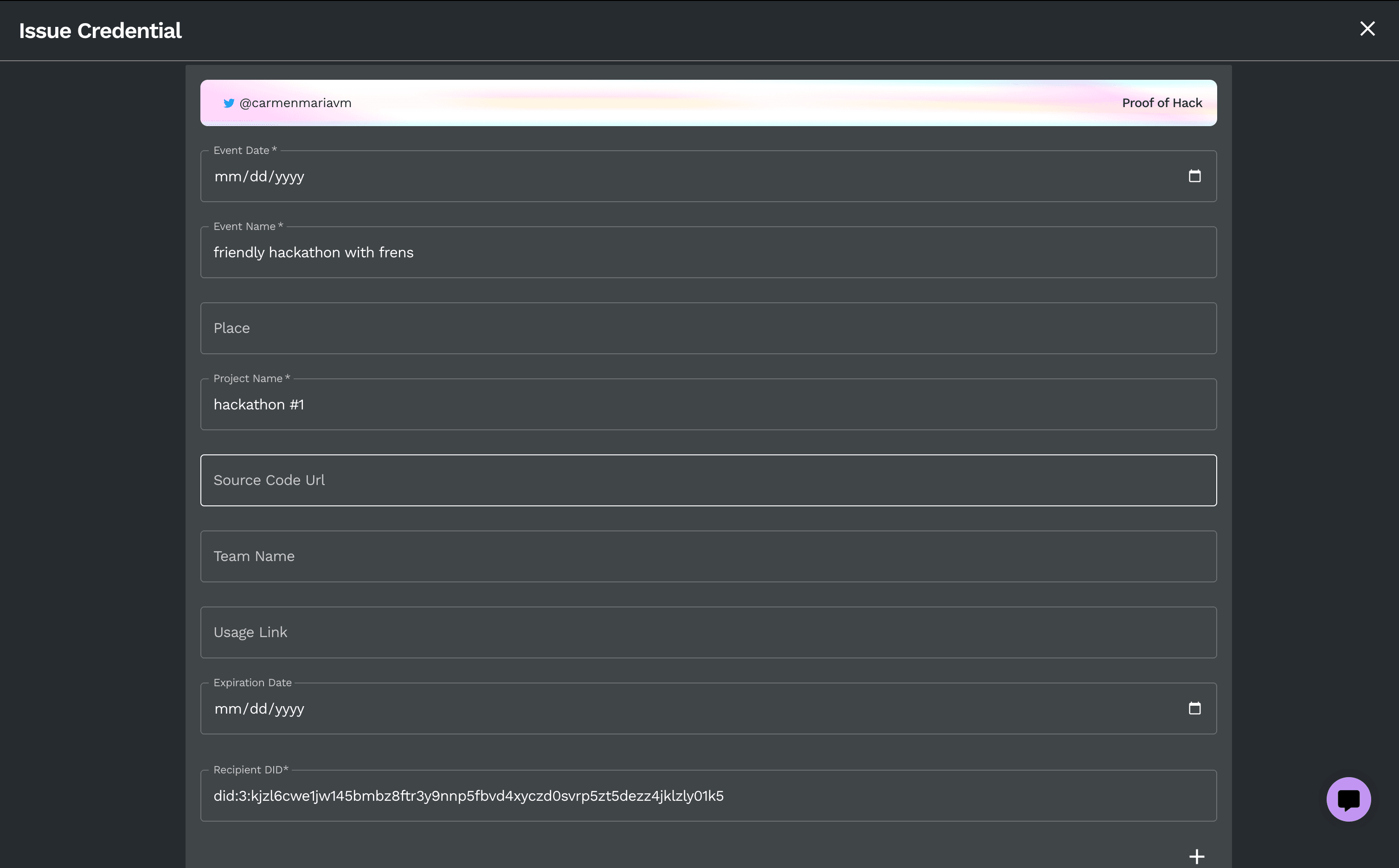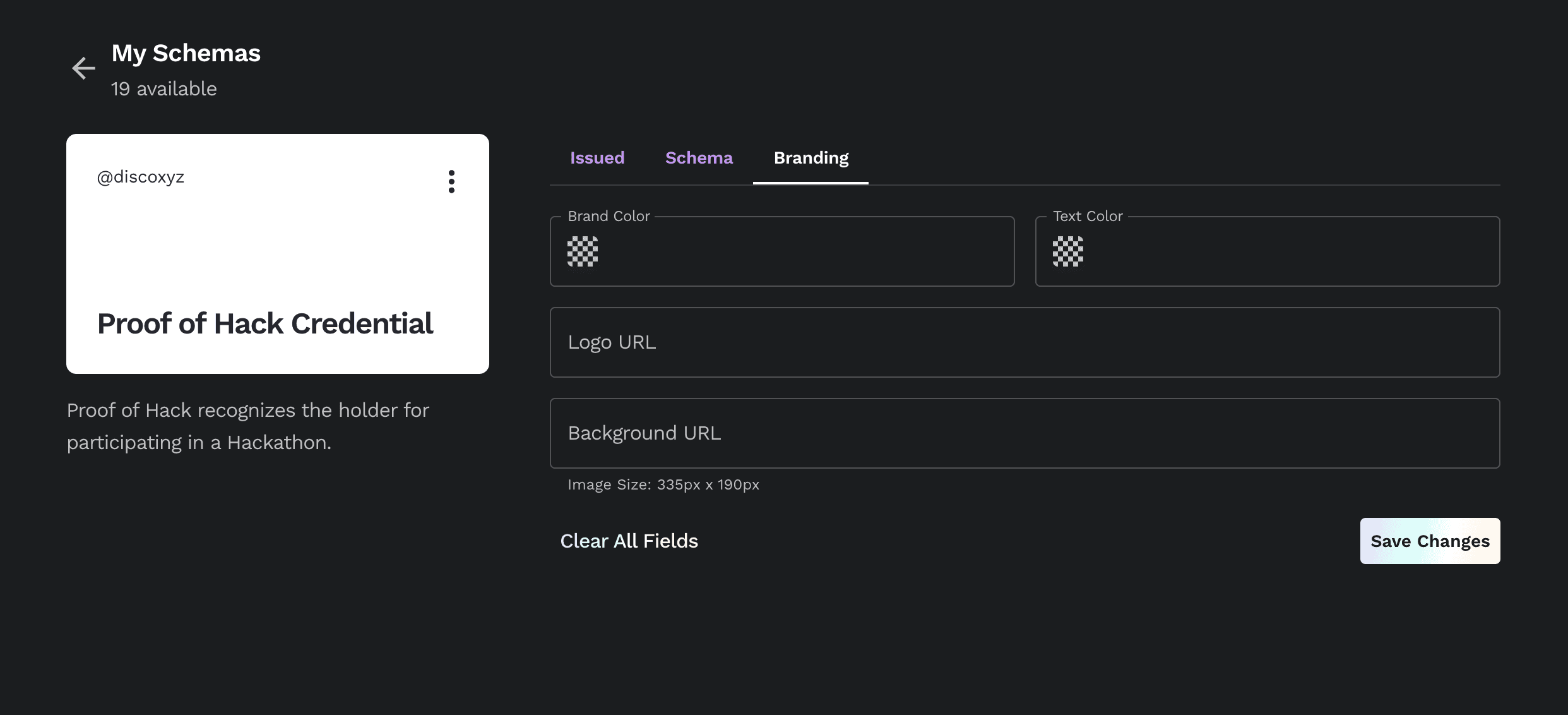 Post-event engagement with access controls. After the hackathon or event, use these credentials to open a post-hackathon chat with participants with access controls, or include them in future events.

Your next activation will be even more seamless. During the next hackathon sign-up, participants can connect their wallets, and their verifiable credentials automatically recognize their previous participation, pre-filling their roles and preferences.
With verifiable credentials, managing hackathons becomes efficient and rewarding, providing a trusted and seamless experience for participants, judges, and winners alike.
Join the ranks of organizers who are leveraging credentials to boost efficiency at their next hackathon, event, or party. By utilizing verifiable credentials, you can focus more on building and enjoying the experience, while minimizing time spent on logistics. This secure and efficient trust model web activation empowers seamless participant verification and enhances overall event credibility. Step into the future of hassle-free coordination and unlock a world of possibilities with Disco.
Share your stories of using credentials by tagging us on Twitter or DM'ing us. We're excited to learn about your credential-powered journeys.